Cellobration
November 3, 2018 @ 8:00 am

-

4:00 pm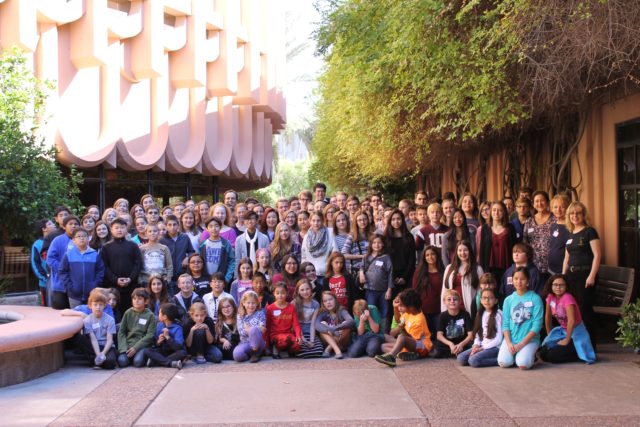 ARIZONA ASTA PRESENTS
CELLOBRATION! 2018
A Day for Cellists
Saturday, November 3, 2018
Tempe High School
1730 S. Mill, Tempe, 85281 (NW corner of Mill Ave & Broadway Rd)
Experience the wonder that is the CELLO! Cellists of all levels are invited to join us for a day which explores the enormous range and the fun of the cello in a Grande Cello Orchestra (new this year) as well as the leveled ensembles, while working with some of Arizona's finest and most experienced university, public school, and studio cello teachers. Enjoy meeting new people who share your love of the bass clef! And for those advanced players – we have plenty of tenor and treble to satisfy your quest for the higher stratospheres!!! Sign up by October 23rd and you'll be able to order a Cellobration T-shirt!
And now for some of the details…
General Classes2: A fun day of CELLO for all levels – Beginner (Level 1) through Advanced (Level 5). Check-in and Registration begins at 9:45am. Classes begin at 10:15am.
Music (including music for Cellobration's Grande Cello Orchestra) and other materials will be provided in advance via email so that students feel prepared to enjoy the day to its fullest.
Thomas Landschoot, Cello Professor at ASU, will teach level 4 and 5 students. Students in Levels 4 & 5 are encouraged to bring solos and other music they are working on.
NEW this year – Audition Prep Workshop!1 These workshops will be open to high school students.Check-in and Registration begins at 8am. Classes begin at 8:30. There will be three classes offered during each of the 2 Sessions (8:30 and 9:30):
Regional Excerpts [8:30 am only]/ All-State Excerpts [9:30 am only] taught by principal cellists of the Phoenix Symphony, including Jan Simiz, assistant principal cellist
General Technique: Scales and Arpeggios, etc. [both sessions]
Audition Techniques: Sight-reading strategies, managing performance anxiety [both sessions]
**Concert Performance: All cellists will be learning cello ensemble music in their respective classes and will perform them onstage in a free concert before an audience of family and friends. Thomas Landschoot and ASU cellists will also perform on this concert. The concert will conclude with ALL PARTICIPANTS performing in Cellobration's Grande Cello Orchestra!
Schedule:
8:00 a.m.1 – Registration/Check-in I: Optional Audition Prep Workshop – HS Students ONLY
8:30 a.m. – Audition Prep Workshop begins
9:45 a.m.2 – Registration/Check-in II: ALL LEVELS (not involved in AM Sessions)
1:00 p.m. – Pizza Lunch will be provided to all registrants
3:15-4:15 p.m. – Concert for all participants (free and open to public)**
Cellobration T-Shirts available through pre-order sale/registration only (deadline 10/23/18).
Teachers: Certification Verification will be available for any teacher who attends any of the classes. Pre-registration is recommended; there is no registration charge for teachers.
Parents: Parents are welcome to observe the class their young cellist is attending.
Students must bring: cello and bow, rosin, endpin anchor and two pencils
*Class Levels: General guidelines are as follows:
Level I: Cellists have played for 2 years or less and play in first position only. No music reading required
Level 2: Cellists with a firm understanding of 1st position, with extensions on all strings. Must read music.
Level 3: Cellists with a firm understanding of the notes in half through 4th positions (with extensions). Play in keys through 3-sharps and 2-flats.
Level 4: Cellists with a firm understanding of half through 7th positions (thumb position). Play in keys through 4-sharps and 4-flats. Knows tenor clef. Uses vibrato.
Level 5: Advanced Cellists are able to perform Level 4 requirements, as well as perform in treble clef
Please note: Students may be reassigned to a different level based on our teachers' assessment to ensure that they will have the most enjoyable experience possible.
Questions? Contact Mrs. Simiz at cellobrationaz@gmail.com or 602.989.2627
If there is a problem with the registration at this time with credit card play, please try again later or contact Mrs. Simiz  cellobrationaz@gmail.com or 602.989.2627