Cellobration
December 2 @ 8:00 am

-

4:00 pm
Event Navigation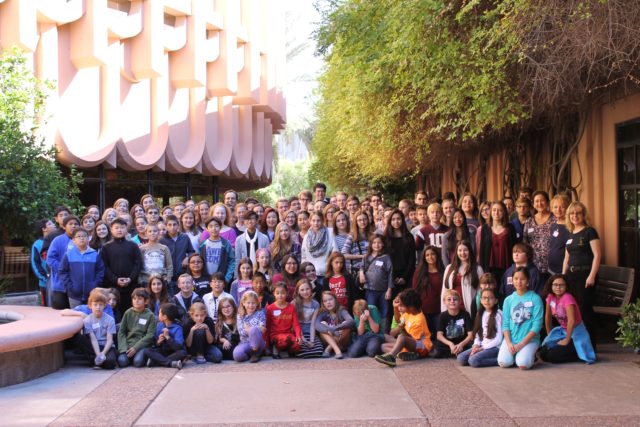 A Day For Cellists, presented by ASTA-AZ and ARIZONA STATE UNIVERSITY
Schedule:
8:00 a.m. – Check­in ASU Music Building main lobby
8:30 a.m. – Classes begin
8:45-9:30 a.m. – Free class for parents of cello students
1:30-­2:30 p.m. – Concert for all participants (free and open to public)
2:30-­4:00 p.m. – Optional high school level Regional/All-State Audition Excerpts workshop
Classes for cello students from elementary through high school will be taught by some of Arizona's finest and most experienced university, public school and studio cello teachers. Some of the highlights of the day include:
Beginning to Advanced Classes: Classes are structured for all ages and playing levels, from Beginner Level 1 through Advanced Level 5 (see Guide to Class Levels for details concerning minimum requirements). Music and other materials will be provided in the classes. Level 4 and 5 students will be taught by Thomas Landschoot, Cello Professor at ASU, and Debra Pearson, principal of the Arizona Opera, and are encouraged to bring solos and other music they are working on.
Free class for parents of cello students: Tips for parents of cello students.
Lunch will be provided to all registrants.
Concert Performance: All cellists will be learning cello ensemble music in their respective classes and will perform them onstage in a free concert before an audience of family and friends. Thomas Landschoot and ASU cellists will perform on this concert.
Optional Regional/All­State Excerpts Workshop: This optional workshop for interested high school students will be held from 2:30 – 4:00 p.m. and will cover the orchestral excerpts for this year's auditions.
Cellobration T­-Shirts available through pre-order sale/registration only.
Teachers: Certification Verification will be available for any teacher who attends any of the classes. Pre­registration is recommended; there is no registration charge for teachers.
Parents: Parents are welcome to observe the class their young cellist is attending. Students must bring: cello and bow, rosin, endpin anchor and two pencils
Questions? Contact Mrs. Matthusen @ 480­839­6324 or cmatthusen@cox.net.