January 15
@
12:30 pm
–
6:00 pm
Tucson Bass Jam
University of Arizona
Fred Fox School of Music
1017 N. Olive Road
Faculty Director: Dr. Philip Alejo, University of Arizona ([email protected])
Lead Teachers: Dr. Kelsey Nussbaum and Lisa Brown
Guest Artist: Dr. Robert Matheson, Utah Tech University
---
The Tucson Bass Jam is an ASTA-sponsored clinic for beginning, intermediate, and advanced double bass students, music educators, and community bass players of any age from Southern Arizona. Attendees will participate in workshops, rehearse as a bass orchestra, and give an informal performance at the end of the day.
As part of the 2023 Bass Jam, we will be introducing elements designed for the classroom teacher in mind. Dr. Kelsey Nussbaum will facilitate breakout sessions for non-bass playing orchestra teachers to learn how to better support and differentiate for their bass students while also gaining hands-on bass practice. Please bring an instrument from your school to use during the Tucson Bass Jam. If you have questions about the teacher workshop element, please reach out to Kelsey Nussbaum at [email protected].
Registration and Fees
The registration fee per student for the Tucson Bass Jam is $10. Students will need to bring their own instruments, bows, and endpin stopper. Parents, teachers, or other chaperones may accompany their students to Tucson Bass Jam free of charge. We request that any student 13 or under be accompanied by a parent, guardian, or adult chaperone during the event. Fee waivers are available, contact Philip Alejo for more information.
Registration: Participants should visit and register on the AZ-ASTA website. Registration on the day of the event will be possible, but not recommended.
https://astaaz.org/event/tucson-bass-jam/
Experience Level Assignments
Using the descriptions below, consult with your teacher to determine your performance level. Participants will be divided into four levels.
Level 1:  Advanced Bassists able to perform in upper positions and read tenor clef.
Level 2:  Bassists comfortable with all positions to first-octave harmonic.
Level 3:  Bassists comfortable with the notes in first, second, and third positions.
Level 4:  Bassists with an understanding of first and half position notes.
Schedule
12-12:30 PM                    Arrival and registration in FFSOM
12:30 PM                         Introduction, bass orchestra rehearsal
1:30 PM                           Technique class, Regional workshop (HS players), Teacher class
2:15-2:30                         Break
2:30 PM                           Masterclass with Guest Artist; YB Masterclass with Dr. Nussbaum
3:30 PM                           Special class with Guest Artist; YB Breakout Rehearsal
4:30-4:45                         Bass orchestra run-through
4:45-5:00                         Break
5:00 PM                           Final Performance
---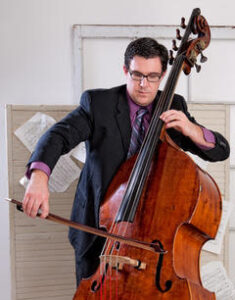 Guest Artist Biography
Double bassist and music technologist Robert Matheson incorporates elements of classical, jazz, and contemporary music into his original works. In his solo performances, he achieves a fluid interaction between acoustic and electro-acoustic music. His performance setup allows him to perform live electro-acoustic music while maintaining the integrity of the natural, acoustic sound of the bass.
Robert has performed with ensembles representing a wide range of musical genres, including the Ironwood Duo, Portable Masterpieces, and the Tucson Chamber Orchestra. Solo and ensemble performances have taken him throughout the United States and to Europe.
Robert Matheson received a Doctorate of Musical Arts degree in bass performance from the University of Arizona where he studied bass performance with Patrick Neher and music technology with Dr. Norman Weinberg and Dr. Craig Walsh. He previously studied bass performance with Barry Green at the University of California, Santa Cruz and Dr. David Young at California State University, Long Beach. Robert lives in Saint George, Utah where he teaches double bass, music technology, and musicology at Utah Tech University and performs in the orchestra at Tuacahn Center for the Arts.