Fiddle Fest
January 11, 2020 @ 9:00 am

-

2:00 pm
The 8th Annual Fiddle Fest, hosted by the Gilbert Town Fiddlers in conjunction with ASTA-AZ and Highland HS, is a day for string students and teachers alike to explore different fiddling traditions from around the world. All ability levels on bowed string instruments (violin, viola, cello, and bass) are welcome. It will be a packed day of fun tunes, new techniques, grooving, and performances from students and professionals!
Guest Artists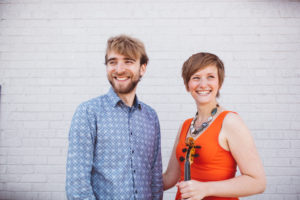 KATIE MCNALLY & NEIL PEARLMAN
The vibrant musical traditions of Cape Breton and Scotland take on new life in the hands of Katie McNally and Neil Pearlman. 
"An innovative ensemble as grounded in the tradition as it is ground-breaking," (Folk Radio UK), the duo draws inspiration from the rich history of Cape Breton fiddlers and pianists in both Nova Scotia and Massachusetts, while their fresh arrangements are sculpted by the modern energy of the Boston acoustic music scene.
Recent covergirl for Fiddler Magazine, Katie McNally has already made her mark on Scottish music in North America. Her 2016 release "The Boston States" pays homage to the living Cape Breton traditions in her hometown of Boston, MA and was produced by Wendy MacIsaac. In addition to fronting her own trio, Katie performs with Fàrsan, the transatlantic collective Apiary, and has toured with such Celtic music luminaries as Carlos Nuñez, Karan Casey, and John Whelan. Katie has performed in the US and abroad at Celtic Connections, the Newport Folk Festival, the Barns at Wolf Trap, and The Festival of American Fiddle Tunes.
Called "a tremendous pianist" by BBC Radio Scotland, Neil is recognized in many Celtic music circles for his unique approach to the piano. Rooted in traditional Cape Breton piano styles, Neil brings in ideas from many other genres and the result is an exciting new sound that remains true to its traditional roots. An accomplished Cape Breton step dancer as well, Neil grew up in the family band Highland Soles, led by father and mother Ed Pearlman and Laura Scott, both influential Scottish music and dance figures in the US. Neil performs regularly with Afro-Celtic Funk band Soulsha and in a duo with Shetland fiddler, Kevin Henderson. He is also host of the popular podcast, Tradcafe. 
Schedule
8:30 Registration
9:00 Workshops & Classes
12:00 Lunch (provided)
1:00 Culmination Concert with Guest Artists
Co-Chaired by Taylor Morris and Sara Duce, Directors of the Gilbert Town Fiddlers
Hailed by a class of 2nd graders as "wreely nice and kind" and "the coolest man on erth," Arizona native Taylor Morris enjoys blurring the line between being a violinist and a fiddler. After studying classical violin at Arizona State University with Dr. Katie McLin, he spent four years touring the world as one of five fiddlers with "Barrage," a Canadian-based, world music violin troupe. His travels, both with Barrage and personally, have led to performances in 48 states and 13 countries with musicians from a multitude of backgrounds. Offstage, Taylor obtained a master's in education from Harvard University and is a passionate advocate for arts education. He co-founded and co-directs the Gilbert Town Fiddlers, teaches as a Guest Lecturer at ASU, maintains a private violin studio in Chandler, and regularly works with students and educators around the country to explore the violin's unique relevance to a variety of genres.
Sara Duce grew up in Mesa and began playing the viola at the age of 8. After fiddling in the Mesa Public School program, she continued playing fiddle on her own and began performing with hot local country bands. Sara loves the fusion of many different fiddle styles. Sara holds degrees in music education from both ASU and NAU and has worked locally as a fiddling clinician. Her credits include fiddle instructor at the ASU Herberger College for Kids summer workshops, the Tempe district's Sky-Y fiddle retreats, the Arizona String Teachers fiddle workshop for teachers, and improvisation specialist for the Scottsdale District Honor Orchestra with guest artist Mark Wood. Sara co-founded and co-directs the Gilbert Town Fiddlers and teaches orchestra at Greenfield Junior High in the Gilbert School District where her enthusiastic string students continue to earn superior ratings at state competitions.
Registration: $35 for students (includes lunch and t-shirt); free for teachers.