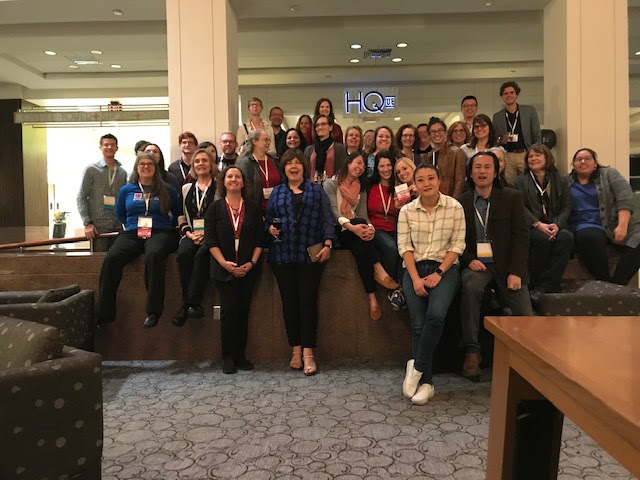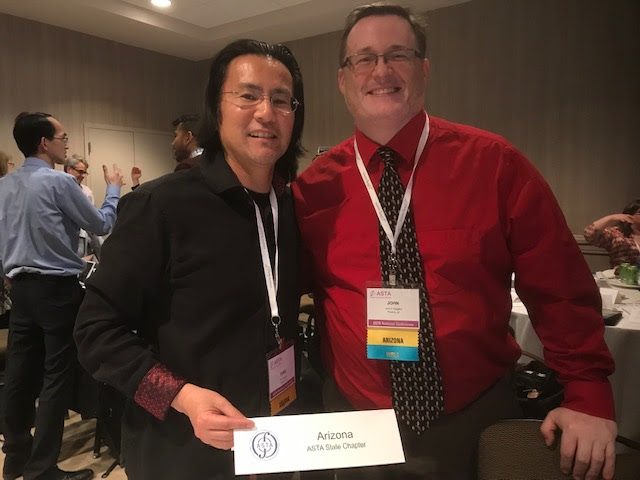 Mission
To Enrich Lives through the Joy of Teaching and Playing String Instruments
Our growing chapter of 250 members represents string lovers of all sorts: violinists, violists, cellists, bassists, guitarists, harpists, performers, teachers, students, amateurs, professionals, parents of string players, and luthiers. You will find a very supportive and active community of string enthusiasts at ASTA-AZ.
Throughout the year we provide activities for our members and their students that promote their love of string playing and encourage growth of skills as they teach and perform.
Additionally, the national ASTA provides members with an award-winning journal published four times a year and hosts an incredible three-and-a-half-day conference, with performances and sessions that are guaranteed to inspire and inform.  
Officers
Maria Simiz, President
Emilio Vazquez, President-Elect
John Haggard, Past-President
Ruthie Wilde-Wenger,  Secretary
Amanda Hartley, Treasurer
John Haggard, Solo Competition Chair
Mary Ann Ramos, Northern Membership Chair (Flagstaff Area)
Danica Terzic, Central Membership Chair (Phoenix Area)
Jason Sah,  Southern Membership Chair (Tucson Area)
Meeting Minutes:  ASTA Meeting Minutes 2004-2006   ASTA Meeting Minutes 2007  ASTA Meeting Minutes 2008  ASTA Meeting Minutes 2009   ASTA Meeting Minutes 2010   ASTA Meeting Minutes 2011   ASTA Meeting Minutes 2012   ASTA Minutes Jan. 2014   ASTA Minutes May 2015   ASTA Meeting Minutes Sep. 2015   ASTA Meeting Minutes June 2016 ASTA Meeting Minutes August 2016 ASTA General Meeting August 2016 ASTA Meeting June 2017  ASTA Meeting Minutes Sep. 2017ASTA-Meeting-6_6_18 ASTA Meeting 9_15_18 ASTA Minutes 5_29_2019 ASTA meeting 9_21_19
Past Fall Workshop Clinicians
2021- Elizabeth Ramos, Kirk Johnson and Desert Sounds
2020-Kirt Mosier, Charles Laux and Simply Three
2019- Soon Hee Newbold, Molly Gebrian
2018- Richard Meyer, Tammy Yi
2017- Karin Hallberg, Jenny Nichols, Christopher Finet, Nancy Buck, Jonathan Swartz and Walt Temme
2016-Debbie Lyle
2015-Brenda Brenner
2014-Susan Day, Tetra Quartet, Clark Chaffee
History of the Past Winners of the Outstanding Teacher Award. (Odd-Even = Studio Teacher, Even-Odd=Public School Teacher), Nominations are open from September 1 – November 1 by sending few paragraphs about the teachers accomplishment and why you think the person deserve the award.  Winner will be announced after voting within the board members. E-mail to [email protected]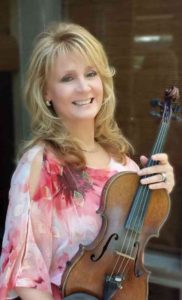 Shari Paris is the current ASTA-Arizona String Teacher of the Year 2020 and has been teaching Suzuki Violin in the Phoenix/Scottsdale area for 30 years. Shari specializes in Early Childhood Music Education and is the founder and Director of Music For Early Childhood, LLC. In addition to her Early Childhood and Suzuki training, Shari also works as a teacher and clinician in the Orff-Shulwerk method and has presented sessions for the National MENC and AOSA conferences as well as the Arizona Music Educators Conference.
Shari's violin students have been accepted to major University Music and Orchestral programs around the country including the Juilliard School of Music. Her students are consistently awarded top chairs in the Valley's Youth Symphony Orchestras including 4 Concert Masters in the 2018-2019 season.
Shari comes from a family of music educators. Both of her parents were University music professors as well as her sister who is recognized nationally and internationally for her String Basics Middle School Orchestra Book series.
As a child, Shari was trained in the Suzuki Method from age 5. Through the years she has received instruction from William Starr, Louise Scott, David Becker, Michele Higa George, and Flory Godinez.
She is a graduate of Arizona State University and was a full scholarship recipient and a member of the Arizona State Symphony Orchestra.
Shari has a large and flourishing private studio where she enthusiastically teaches 64 students weekly. Her students range in age from 2 to 60 and perform throughout the Valley.
| | |
| --- | --- |
| 2019-2020 | Shari Paris |
| 2018-2019 | Terry Alexander |
| 2017-2018 | Laura Tagawa |
| 2016-2017 | Karalee Hagen |
| 2015-2016 | Marybeth Tyndall |
| 2014-2015 | Amy Bennet |
| 2013-2014 | Susanne Rothaar |
| 2012-2013 | Walt Temme |
| 2011-2012 | Louise Scott |
| 2010-2011 | Catherine Nichols |
| 2009-2010 | Dan Swaim |
| 2008-2009 | Bill Bitter |
| 2007-2008 | Dennis Bourret |
| 2006-2007 | Diane Grieser |
| 2005-2006 | David Rife |
| 2004-2005 | Fran Veres |
| 2003-2004 |   |
| 2002-2003 |   |
| 2001-2002 |   |
| 2000-2001 |   |
| 1999-2000 | Patricia Cosand |
History of the Presidents
| | |
| --- | --- |
| 2020-2012 | John Haggard |
| 2018-2020 | Toru Tagawa |
| 2016-2018 | Jonathan Swartz |
| 2014-2016 | Theodore Buchholz |
| 2012-2014 | Shelly Rich |
| 2010-2012 | Terry Alexander |
| 2008-2010 | Janice McDivitt |
| 2006-2008 | Ann Williams |
| 2004-2006 | Donald Hamann |
| 2002-2004 | Marna Bowling |
| 2000-2002 | Carol Matthusen |
| 1998-2000 | Claire Gordon |
| 1996-1998 | Beth Gilbert |
| 1994-1996 | Patricia Cosand |
| 1992-1994 | Sheila Kendall |
| 1990-1992 | Louise Scott |
| 1988-1990 | Daniel Swaim |
| 1986-1988 | Phyllis Skoldberg |
| 1984-1986 | Margaret Ruccolo |
| 1982-1984 | Jeffrey Showell |
| 1980-1982 | William Magers |
| 1977-1980 | Dennis Bourret |
| 1975-1977 | John Ferrell |
| 1974-1975 | Richard Gregory |
| 1972-1974 | Gordon Epperson |
| 1970-1972 | Frank Spineza |
| 1967-1970 | Dale Brubaker |
| 1965-1967 | Eugene Lombardi |
| 1964-1965 | Lauritz Bjorlie |
| 1962-1964 | Anna Mae Sharp |